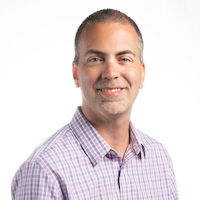 Elevation Financial is led and owned by Michael Reynolds, Principal and Financial Advisor.
With a long history of owning and growing successful businesses, Michael is passionate about personal finance, entrepreneurship and financial education. He has founded and co-founded a number of successful businesses, including a thriving online membership community, a software company and a virtual staffing firm in the marketing services space. After 23 years as the owner of SpinWeb, a digital marketing agency, Michael sold the agency in order to focus on what he loves — helping people improve their financial health and advising entrepreneurs.
As a Ramsey Certified Financial Coach, Michael not only enjoys creating simple and accessible financial plans for his clients, but also coaching them through the process of making real change in their lives.
Michael is also a professional speaker and business consultant and has spoken to groups large and small on marketing and business topics, including multiple sold-out sessions at leading industry conferences.
Michael believes that it's fundamentally important to learn to take control of your money because money touches every part of our lives and is the foundation that supports and empowers our life decisions both large and small.
Michael is a sushi lover, Star Trek nerd and firmly in defense of one space after a period.
Are you an event planner, podcast host or media pro looking for headshots of Michael? Download them here.